STRONG CLASSES
The hardest thing you'll do all week, the best thing, too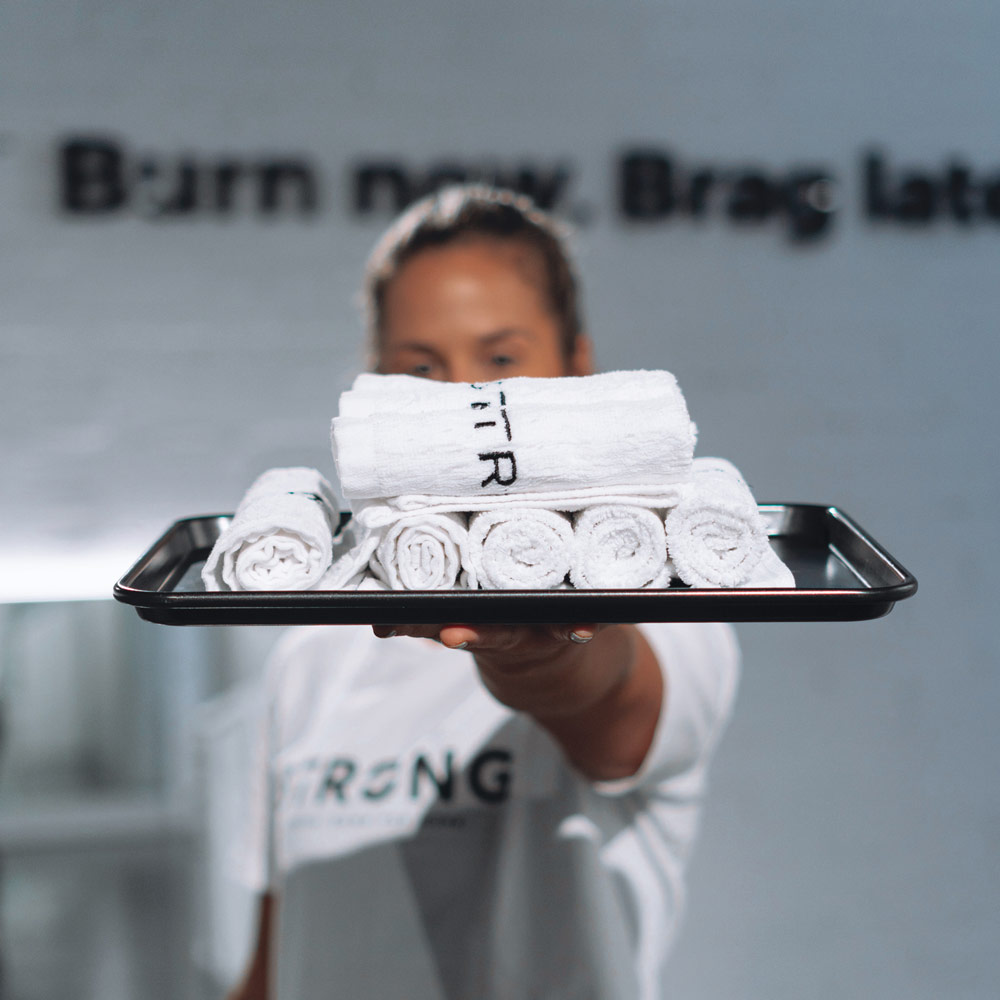 More workout: 45-minute high-intensity strength and conditioning class.
More classes: multiple daily sessions focussing on either upper body, lower body, core, obliques or a combination of them all.
More challenges: resistance training + rowing cardio bursts for one of the toughest and most effective workouts you can do.
More support: highly qualified STRONG trainers who can modify the class for any injuries or restrictions.
More beats. Carefully curated playlists to make you move. To push you to do more. To get you through your STRONG Pilates class.
More heartbeats. Push your comfort zone and see your progress with heart rate technology integrated into every class.
More sweat. Lots of it. 
More sweat.
More full body workout.
3 x STRENGTH blocks. Upper Body, Lower Body and Core. Each strength block is followed by 5-minutes of interval rowing, giving you a full BODY workout that's low-impact & high-intensity.
More Balance.
More Core.
More Burn.
Work with light springs to focus on stabilising leg exercises, abs and obliques. Plus, bursts of cardio with a trio of five minute rowing intervals.
STRONG LOADED
UPPER
(45 Minutes)
More Push-Pull.
More Biceps.
More Results.
Heavy spring loaded upper body focused movements. Push, pull, press & row your way through this 45-minute class. Cardio-infused with short, sharp bursts of interval-rowing.
STRONG LOADED
LOWER
(45 Minutes)
More Squats.
More Booty.
More Results.
Heavy spring loaded lower body focused movements. Think heavy squats, lunges and booty burn. Cardio infused with short, sharp bursts of interval-rowing.
More abs.
More core strength.
Notoriously known as the hardest class of the week – work the entire trunk of your body, including frontal abdominals, lower abdominals, obliques and back extensions.
More Balance.
More Core.
More Burn.
Our most Pilates inspired class of the week utilising the cables and straps, working through a flow of movements aimed to improve mobility through the body. Two longer row blocks will test your endurance just like a long Sunday run!
STRONG FORM+
(45 Minutes)
More movement.
More Pilates
Improve your balance, flexibility, and strength in this Pilates-only session. No rowing means more time to target each individual muscle group.
More movement.
More calorie burn.
Move through an intense strength block and short, sharp interval rowing to peak your heart rate and burn maximum calories. Don't miss a beat with our active recovery moments, bringing you a dynamic and intense SWEAT.
STRONG HYBRID
(45 Minutes)
More Strength.
More Pilates.
More Cardio.
More EVERYTHING.
Full body workout combining all our favourite STRONG components for the ultimate session – building intensity is the key to success!